for piano and black & white film (2009)
Benjamin Kobler – piano
Joe Bendavid – actor
Michel van der Aa – director, script
High definition movie | 720p or 1080p mp4 | 16:9 widescreen | AAC or WAV stereo
Running time : 12 minutes
A production of Ensemble Musikfabrik and Disquiet Media
Buy
Download HD 720p
Download HD 1080p

HD 720p – mp4 Quicktime movie | Size: 512 MB
Video: 1280 x 720 pixels, 25 fps, H.264 codec
Audio: stereo, AAC 320kbps, 48khz

HD 1080p – mp4 Quicktime movie | Size: 1.1 GB
Video: 1920 x 1080 pixels, 25 fps, H.264 codec
Audio: stereo, WAV; 16 bit, 48khz
Liner notes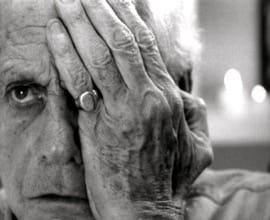 Transit brings together elements of Van der Aa's 2000 piano composition Just Before with Passage, a short film he made at the New York Film Academy.
In Transit the movements of the pianist interact theatrically with the video projection, the focus shifting between the video projections and the virtuosic playing of the pianist. The film footage shows us an old man trapped in his own house, he is fighting against a loneliness verging on insanity.
Transit is performed with DVD. The electronic soundtrack on the DVD combines actual sound from the film-set with prerecorded and edited piano sounds, resulting in close intermingling of live piano and pre-recorded electronic sound.