Buy
Vinyl

(2LP, 180 gr, 45 rpm)

Limited edition double vinyl. Price includes download WAV version, excl. shipping
CD
Price includes download MP3 version, excl. shipping
Download
MP3

(320 kbps)

WAV

(24bit/48khz)

Album
Difference between MP3 and WAV formats is explained in our shop FAQ.
Liner notes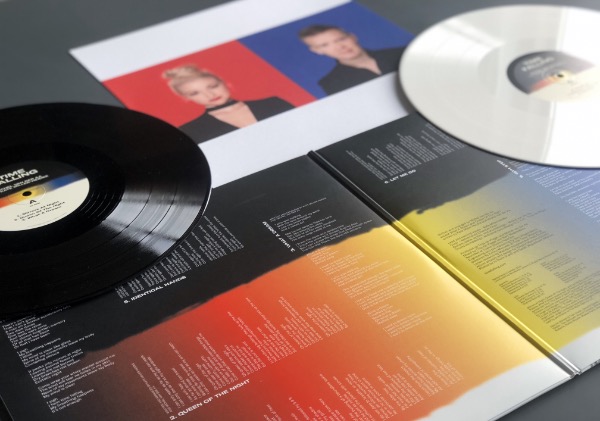 Michel van der Aa to release debut indie-pop album featuring Kate Miller-Heidke 'Time Falling': A kaleidoscopic concept album centred around the theme of infinity
For the first time Michel focuses entirely on an indie/alt-pop electronic album involving the masterfully talented and versatile Australian singer song-writer Kate Miller-Heidke. Kate Miller-Heidke voice has been described by US singer-songwriter Ben Folds as "one of the best in the world", she is a long-time collaborator of Michel van der Aa. Although classically trained, Kate followed a career in alternative pop music and is the only person to have sung at Coachella, the New York Metropolitan Opera and Eurovision representing Australia in 2019.
Michel's trademark sound design of analogue synths, guitars, hypnotic rhythms, and dense tonal atmosphere combine with Kate Miller-Heidke's powerful distinctive voice to create an album beyond genre with touches of experimental electronic, indie, a cappella choir (Netherlands Chamber Choir) and pop influence.
The album theme explores "Infinity", in regard to 'time', and 'space'; inspired by the writing of Jorge Luis Borges, Fernando Pessoa, Federico García Lorca, Emily Dickinson and scientific discovery
Tracklisting:
01 Mirrors At Night
02 Queen Of The Night
03 What A Dream
04 I Think Of Fire
05 Identical Hands
06 Let Me Go
07 Crimson Labyrinth
08 Asterion
09 19th Step
10 The Aleph
11 Asterion (A Cappella)
Written and arranged by Michel van der Aa
except 'What A Dream' and 'Queen Of The Night'
written by Kate Miller-Heidke and Michel van der Aa
Lead and backing vocals – Kate Miller-Heidke
Choir – Nederlands Kamerkoor,
conducted by Boudewijn Jansen (1, 5) and Manoj Kamps (9, 11)
Guitars, piano, synths, and sounddesign – Michel van der Aa
Drums sounddesign, additional sounddesign (1, 2, 4, 5) – Thijs de Vlieger
Produced by Thijs de Vlieger and Michel van der Aa
Mixed by Thijs de Vlieger
Engineering, additional mixing, and pre-mastering by Bart Wagemakers
Recorded at Exalto Studios Haarlem
Mastered by Enrico Mercaldi at Time Tools Mastering
Lyrics research by Madelon Kooijman and Niels Nuijten
Album artwork and design by Vincent Meertens Studio